AGI Council is formed from elected members of the AGI, and its main role is to set the strategic direction for the organisation. To do this, members use their own knowledge and experience, as well as consulting with the wider membership. All Council members are also appointed as company directors of the AGI.
Council members are elected for a three-year term, with a third of Council positions available for election each year. Council members are elected by the entire AGI membership, except for the regional representatives of Scotland, Wales, and Northern Ireland, who are elected only by those members whose main contact address is in that region.
Adam Burke [Chair]
Associate Head of Geospatial Service, NHS South Central and West
With a passion for geography, Adam studied Physical Geography and Earth Sciences at Aberystwyth University, followed by an Msc in GIS and Remote Sensing. After graduating in 2010 Adam started his career working in GIS within the public sector, firstly as a GIS technician at Powys County Council, and then the GIS Officer at Merthyr Tydfil County Borough Council.
In 2017 Adam joined Natural Resources Wales as the Geospatial Lead, working within the knowledge and information management group. With a keen interest in project management and change management, Adam is leading on the GIS strategy and implementation plan for Natural Resources Wales.
Adam has been heavily involved with AGI Cymru and was the national group chair from 2018-2020. As a chartered Geographer and a Fellow of the Royal Geographic Society he enjoys the outdoors and can often be found roaming the Brecon Beacons National Park at weekends.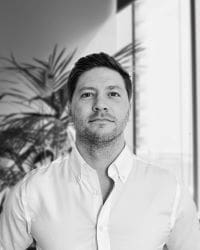 George Firth [Vice Chair]
Senior GIS Consultant, Tetra Tech
George is a Senior GIS Consultant for the engineering and consultancy firm Tetra Tech. He entered the geospatial field after studying at the Defence School of Geospatial Intelligence, after which he spent over eight years working within Defence, including the Defence Geographic Centre in London, before moving to the private sector. George is a Chartered Geographer (GIS) and Fellow of the Royal Geographical Society.
Morgan Commins [Hon. Secretary]
Senior Data Architect, Ordnance Survey
Morgan is an environmental scientist and data professional with proven service delivery and collaboration experience across large corporates, start-ups, academia and the public sector. Morgan uses his knowledge to shape the data behind Ordnance Survey products to meet the needs of customers. He led spatial data strategy in Welsh local government, successfully transforming geospatial services by delivering spatial data to thousands of users via open geospatial tools. Morgan is a long-standing member and Past Chair of AGI Cymru. He represents Welsh interests on AGI Council since 2018.
Morgan is a Chartered Geographer and a Fellow of the Royal Geographical Society with IBG. He champions biological and cultural diversity and is an advocate for walking, open source, sustainable models of resource distribution, sound money, blockchain, data ethics and the role of location in improving society. Morgan's early affinity for technology and the natural world bloomed into studies of the spatial and temporal patterns of life – earth observation applications were a natural fit for his macro worldview. He explores places less travelled, from lemurs in Madagascar to albatrosses in the sub-Antarctic, seeking simple moments of natural connection. "Joy, kindness and knowledge only grow when shared."
Alan Moore [Treasurer]
Head of Geospatial Services, Idox PLC
An advocate of open source geospatial technologies, Alan Moore is Head of Geospatial Services with Idox and has an extensive career in the geospatial industry across the public and private sector. He is also a member of the National Group, AGI Scotland, and represents those interests on AGI Council alongside the wider landscape.
Denise McKenzie [Past Chair]
Community and Ethic Partner, PLACE
Denise McKenzie is an international geospatial policy and strategy professional with a speciality in community building and public/private partnership. Currently she is a co-Director of the Benchmark Initiative operating through Ordnance Survey's Geovation accelerator and undertaking a Masters in Sustainability at the University of Southampton. In the broader geospatial community, she is part of the steering committee for Women in Geospatial+ and an advisory board member for the Location Based Marketing Association. Previously she has worked with the Victorian State Government in Australia and as the Head of Outreach at OGC where she led work such as the UNGGIM Geospatial Standards Guides.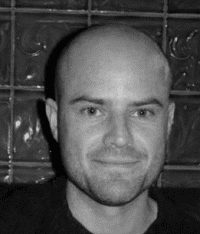 Stuart Tosney [Membership Lead]
Associate Director - Land Survey, Point 2 Surveyors Ltd
With 13 years' experience within the geospatial industry, I have led and delivered major geospatial projects throughout the world, including UK, Africa, Australia, New Zealand and Ireland. Now back in the UK with Point 2 Surveyors as Associate Director, I am continuing to my push to grow clients understanding of the importance of data management and information.
Having joined the AGI, I am proud to be a part of a wider team helping to grow the industry and further push the boundaries. I have a strong passion for data and believe my position as council member gives him a greater platform to use my skills and experience to share these beliefs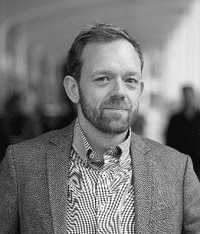 Richard Flemmings [Communications Lead]
CEO, Map Impact
I have over 20 years' experience working across the geospatial sector. My background includes managing airborne surveys in remote parts of Africa, delivering complex and multi-faceted national mapping projects, and more recently, using satellite remote sensing data to solve challenging environmental problems.
I'm excited to be part of the AGI council and being involved in a thriving geospatial community. Working alongside like minded people, I hope that my experiences can contribute to wider geospatial advocacy, and the core mission of AGI. I am particularly passionate about applying geospatial data to support societal and environmental sustainability, and intend to use my position on the AGI council to continue to influence technology development in the right way.
Richard Duffield
Head of Customer Insights, Geoplace LLP
Richard is a data expert specialising in location, with a love for building high-impact products and services. Working within the GI community for 13 years, he's helped to take the national gazetteers from concept to an integral part of our national data infrastructure. Richard brings broad experience across the GI discipline and the industry sectors we serve – and has enjoyed being a member of the AGI since the start of his career.
Katherine Smyth
NIMA Support Officer, Ordnance Survey Northern Ireland (OSNI)
Katherine studied Environmental Science at Ulster University followed by a Masters in Research using GIS. After graduating in 2014, she took on various roles including working for Land & Property Services and NI Water as a GIS technician. In 2016, Katherine joined the NIMA Support team for Ordnance Survey Northern Ireland (OSNI) and over the 6 years she has been involved with OSNI, working in various areas including the Department for Infrastructure Rivers, South Eastern Regional College and the Good Relations Branch in the Executive Office. This year, she has taken on a new role as a GI Manager within the team and continues to develop her career by working towards becoming a Chartered Geographer. As part of her AGI role, Katherine is the national rep for AGI NI and provides support when needed to the national group.
James Cutler
Founder and Geospatial Strategist, Locatum
An experienced geospatial entrepreneur and digital business leader with a flair for original thinking, problem solving and team building through clarity of vision, attention to detail and openness, James is a respected and current voice in the location arena – Fellow, RGS (1985-), AGI Council member (2016-), OS Partner Advisory Council member (2016-2020), Customer Advisory Group member (2018-2020). Wired in to the broader GI community, from C-suite to end users, James has a keen interest in nurturing the use of geospatial in commercial and public sector settings. He champions the role, value and utility of location intelligence for proptech, mobility, fintech and across core industries that underpin UK plc today and tomorrow.
Ian Maxfield [Education and Skills Co-Chair]
Head of Geographic Intelligence, NHS South Central and West CSU
Ian is a Geographer with over 18 years' experience working in the geospatial industry. He is Associate Head of Geographic Intelligence for NHS SCW CSU – a role he is proud of, using GIS to support the NHS and improve the health of the general public. He also has extensive experience of GIS within the Renewable Sector as well as with Local Government. Moreover he has lectured at a number of universities, in addition to a previous life as a secondary school Geography teacher. He has a general passion for all things geospatial, with a particular focus on the development of GIS as a career for students.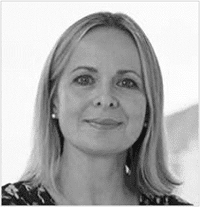 Anne Robertson [Education and Skills Co-Chair]
Head of Services and User Engagement, EDINA The University of Edinburgh
I have 25 years' experience working in the GI sector within the UK and overseas.  In the early stages of my career, based in Western Australia, I worked in geospatial consultancy in the oil and gas, environmental and mining industries. From consultancy I moved to government policy setting – working with agencies to develop and embed interoperable data and metadata policies.  A significant part of my career has been in the UK the education sector.  Initially managing EDINA's Digimap for Schools service, I now have responsibility for EDINA's full portfolio of services and have a particular interest in how geospatial data can be an excellent resource upon which to teach data and coding skills.  I currently oversee the development of a number of innovative geospatial solutions especially in the areas of IoT data integration and green infrastructure mapping.  I have an undergraduate degree in Geography from University of Strathclyde Glasgow and a Master of Science in Geographical Information Systems from The University of Edinburgh.  I value AGI as a diverse membership organisation where people with a passion for geographic information come together to share and collaborate on knowledge, ideas and opportunities.  AGI is a thriving, welcoming organization providing excellent networking opportunities.  With my responsibility for running leading geospatial services in the UK education sector and growing a portfolio of geospatial solutions, AGI Council membership is a role I very much look forward to taking on.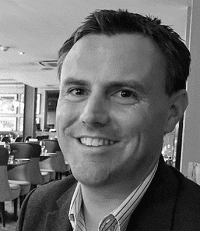 Fergus Craig [GeoCom Lead]
Account Manager, L3Harris Geospatial Solutions
I believe the AGI has the capacity to support a sustainable future through the use of technology.  Working together is key in achieving goals, at an organisational level, those that collaborate and partner, make a stronger community, which is why I am enthusiastic to be more involved with the AGI and support the progress of the geospatial sector. I graduated with a degree in GIS with Business Management and held several technical GI roles before being moving to the commercial side when I joined MapMechanics (now CACI).  I then spent 13 years at the GIS and Web Mapping developer, Cadcorp, in various business development, account management and partner roles across several sectors.  In 2018 I graduated with a Master of Business Administration (MBA) further building and developing my business skills.
I'm looking forward to bringing my academic, technical, and commercial skills to the AGI to progress the organisation to ensure it continues to support the GI community and beyond.
Pam Whitham [AGI Cymru Representative on Council]
Strategic Development Manager, Ordnance Survey
Pam has over 20 years' experience with Ordnance Survey in providing support for the use of Public Sector Geospatial Mapping Data to underpin policy in Wales and England with a particular focus on Housing and Land Administration. Pam has previously been Chair of AGI Cymru and has been an active member of the AGI Cymru committee for many years.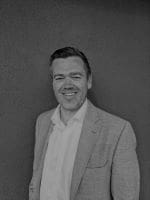 John Seabourn
Chief Digital and Information Officer, North Sea Transition Authority (NSTA)
John Seabourn has been integral in the development of NSTA's Digital Energy Platform, providing data services to industry, government, academia and the public. The platform has rapidly grown since 2016 attracting investment into the UK Continental Shelf, supporting the Energy Transition and providing resources to develop the next generation of energy data professionals.
John joined NSTA's predecessor, Department of Energy and Climate Change (DECC), in 2014 as a Senior Mapping and GIS Manager and set about transforming the way spatial data was used in Government to support the Oil and Gas industry. Prior to joining the Oil and Gas industry, Seabourn worked for the Ministry of Defence and in the Aviation industry specialising in spatial data. He holds a Chartered Geographer accreditation from the Royal Geographic Society, is a member of the UK's Governments' Science and Engineering profession and has a BSc in Geography/Geology from the University of Leicester.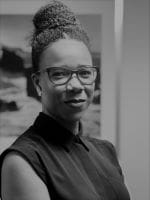 Esther Ogbu
Project Manager, Esri UK
Esther is a Project Management and Business Development Professional with over 8 years' varied global experience and a focus in geospatial and digital transformation. Currently working as a Project Manager in Esri UK, Esther manages a team to implement geospatial solutions that help organisations in the Utility and Telecommunications sector make more efficient use of their geospatial strategy and/or technology.
Esther is actively involved in the geospatial community and building relationships across the industry globally and is keen to promote diversity and inclusivity for women in the geospatial industry hence her volunteer contributions to the Women+ in Geospatial and African Women in GIS Communities. Esther has an interest in influencing younger individuals to be associated with the community through supporting the Early Career Network, but also to consider improving the racial diversity of black geospatial professionals in the UK.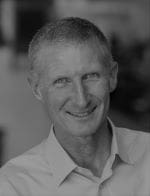 Mark Stileman
Senior Product Manager, Ordnance Survey
Joining Ordnance Survey in 2000 Mark worked in a variety of roles spanning research and innovation, data capture, product management, bid management and proposition development. Currently he leads a small team which is developing propositions for the public sector in the context of the Public Sector Geospatial Agreement. Alongside his day job Mark is an assessor for the RGS's Chartered Geographer accreditation, and sits on the advisory board for Southampton University's School of Geography and Environmental Science.
Having been part of the AGI's GeoCom planning committee, Mark would like to play an active role on AGI Council giving something back to the profession that has enriched him personally and would like to help to identify ways that we can develop AGI's role in supporting careers, and particular to explore synergy with the Chartered Geographer initiative.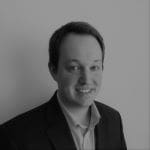 Sam Tizzard
GIS and Data Manager, London Borough of Harrow
Having been involved with Geography and GIS since his teens, undertaking a BSc in Geography and Natural Hazards and an MSc in Volcanology and Geological Hazards. This sparked a fascination with GIS leading Sam to become a Junior GIS Officer at Harrow Council. During my last 7 years at Harrow Council I have grown and progressed, building the GIS Team into a well utilised corporate resource and diversifying the team into data automation, processing and analysis to better support Council functions.
Sam strongly believes in the AGI's missions; GI has a vital role to play in future sustainability and is a worthy mission to undertake. Aiming to share best practice and ensuring that the GI industry has staff skilled enough to continue moving forwards are pivotal to the future of the UK as a GI leader.