The Association for Geographic Information (AGI) welcomes Sir Andrew Dilnot, CBE, and Nigel Clifford in their respective appointments as Chair and Deputy Chair of the Geospatial Commission: their value-oriented strategic experience will be key to unlocking maximum value from location-linked data in the UK.
Together, Sir Andrew Dilnot and Nigel Clifford will be joining a team that's trying to unlock up to £11bn of extra value for the economy every year.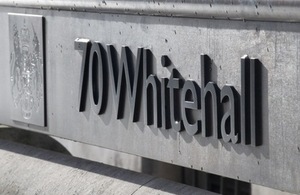 Abigail Page, AGI Chair, said: "We would like to send our congratulations to Sir Andrew Dilnot and Nigel Clifford. We're looking forward to working with them as the Geospatial Commission develops a forward-thinking strategy for using the government's location data in support of economic growth."
The objectives of the Geospatial Commission are to increase economic growth and improve social and environmental outcomes. The Geospatial Commission is being supported by £80m of funding and we are already seeing new projects come to life: £1.5m competition, for example, in partnership with Innovate UK, to harness the power of crowdsourcing.
Abi continues, "Over and above the individual projects, AGI members have identified there's a great deal of work for the Geospatial Commission to do, to achieve those main objectives. Quite importantly, we've seen a focus emerging on Skills, Access, and Standards as being key. The challenges ahead are many, but the new Chair and Deputy Chair bring a great deal of value-oriented strategic experience to the Geospatial Commission. We're looking forward to see the Geospatial Commission's strategy emerge, during 2019, and to supporting the whole team in our joint efforts to maximise the value of geospatial information in the UK."
Read the Cabinet Office announcement here: https://www.gov.uk/government/news/chair-and-deputy-chair-appointed-to-the-geospatial-commission 
 About the Association for Geographic Information
The AGI is the independent voice for our industry: we represent the interests of  a wide-ranging group of organisations, suppliers of geographic information / geospatial software, hardware, data and services, consultants, academics and interested individuals.
By way of its unique membership, the AGI brings together members of this community to share ideas on best practice, experience and innovation, and offers access to unparalleled networking opportunities with significant business benefits.
The AGI also facilitates exposure outside of this community, to challenges and opportunities which are being or need to be met, and which benefit from a collaborative focus. As such the AGI acts on behalf of the community as whole. Since its formal inception in 1989, the AGI has built up a significant membership and established itself as the respected voice in geospatial. The AGI is the membership body for everyone with an interest or involvement with geospatial, and GeoCom is 'the members' event that's open to all'.
Contact information:
For more information about the AGI, visit www.agi.org.uk
Connect with AGI via social media:
Twitter: @GeoCommunity
LinkedIn: https://www.linkedin.com/company/association-for-geographic-information
FaceBook: https://www.facebook.com/AssociationforGeographicInformation
Please direct media enquiries to: Marketing and Communications
The Association for Geographic Information (AGI)
This email address is being protected from spambots. You need JavaScript enabled to view it.     Switchboard: 0207 591 3116