Epsom, UK, 2 December 2021, (www.astuntechnology.com)
Market-leading open source geospatial solutions provider, Astun Technology, has appointed Mark Wilcox as its new Head of Sales, following on from Mike Smith's plans to semi-retire in early 2022. The move aligns with Astun's strategy to achieve 35% growth by 2025.
Mark already has a close working relationship with the team at Astun. For the last nine years, Astun's open source and mapping expertise has helped Mark and the Exactrak team deliver a web-based tracking and monitoring system for local authority highways maintenance vehicles.
Mark will oversee sales for Astun's entire portfolio, including the popular iShare enterprise GIS and a new Data Discoverability proposition which will enable organisations to identify, manage and share more data effectively. He will also work with Astun's marketing team to further develop the Astun brand and raise awareness of open source in the GIS marketplace.
Mike Saunt, MD of Astun, said, "This is a natural progression for Mark. First, he was a customer. Then, he became an advocate, giving presentations about the Exactrak solution at Astun user groups. Now, he's stepping into the Head of Sales role at a critical time in our growth.
This move enables Mike Smith, our Head of Sales since 2010, to achieve his goal of spending more time on hobbies and with his family, whilst ensuring that our clients can continue to benefit from his considerable expertise."
Mark commented, "Having experienced first-hand how Astun solves data and mapping related challenges, I'm looking forward to promoting Astun's innovative services and data solutions across both the public and private sectors."
About Astun Technology
Astun Technology is the UK market leader for geospatial solutions built on open source. As Experts in Place, we help organisations to improve decision making and service delivery by discovering, cataloguing, sharing and collaborating on place-based data.
Our solutions, consultancy services and training have helped hundreds of organisations to implement cloud technology, develop custom web maps and manage their data more effectively.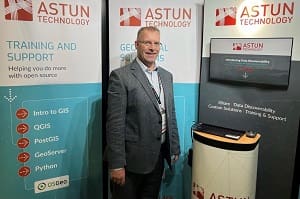 Disclaimer: The publication of AGI member press releases is a member service. The AGI neither approves or endorses the contents of a member's press release, nor makes any assurance of their factual accuracy.